(866) 442-3485
Add-on Track Shades by Thermal Designs, Inc. Are a Beautiful addition to your Sunroom or Solarium



See our Photo Gallery … Read Our Customer Testimonials.
The add-on tracks for these shades are attached to the inside of the sunroom beams. Sunroom and Solarium shading systems utilize tracks to carry them up and down. Many room models have tracks already built into the beams, some do not. In the event there are no built-in shade tracks, we have the solution…
We provide our own aluminum shade track, to fit your solarium or sunroom perfectly, whether your room is curved or straight eave. Our aluminum shade track is far superior to any plastic track. It can be formed to the tightest curved rooms and does not kink, nor will it ever wear out, get brittle or fade in the brutal, direct sun.
Our aluminum sunroom shade track colors are either bronze or white which is a baked-on powder coating for the best durability.
Add-On Track Shades Are Single or Multi-Bay Systems

Call today for information on pricing, fabric selections or simply to discuss your shading, insulating and privacy options. Our toll-free number is (866) 442-485 and you can email us at Thermal Designs.
We ship anywhere in the United States, Canada and all over the world.
Add-on Track Shade Systems for Curved or Straight Eave Solariums
Motorized or Manual Operation
Thermal Designs add-on solarium track shades can either be motorized using a wall switch or remote control for operation or are simply operated with pull cords. They are available in a variety of durable, moisture-proof fabrics, textures, weaves, and attractive fade-resistant designer colors. The choice of fabrics also gives you the ability to control the amount of privacy, degree of transparency, heat reflection and heat retention.
An easy shade system to install
Single or multi-bay solarium track shades operate smooth and quiet in our track that is fabricated to fit your room. Our track is either face mounted or inside mounted with right angle brackets to the glazing beams. Custom pre-assembled headers and hardware for either manual or motorized operation come with every system. Detailed installation instructions are included.
The simple, reliable design provides smooth, quiet operation
The smooth operating, gravity-fed system makes operation of our sunroom track shades a breeze. Aluminum battens, hidden inside the shade pleats spaced at 10-inch intervals, are carried by rolling nylon gliders inside the track. The battens provide support and allow the shades to precisely follow the contour of the solarium for a beautiful, fitted look.
Matching gable end shades are also available
Each bay of the gable end has its own shade that conforms to the roof line and curved areas. Each shade comes with a pre-assembled header with pulleys, Velcro and mounting brackets attached.
The table below gives an example of the fabrics we offer, their application and the amount of light block they provide…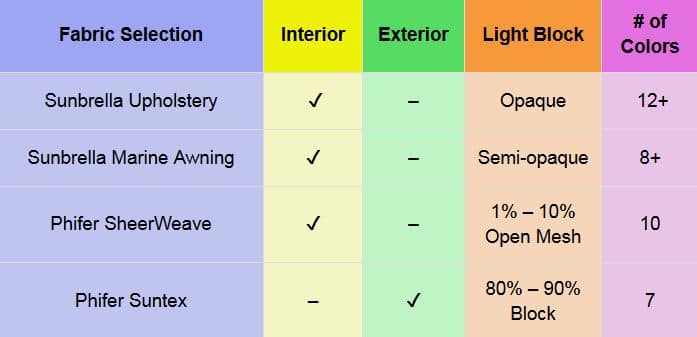 Add-on Track Sunroom shades and blinds by Thermal Designs, Inc. are
Made in Boulder, Colorado, USA.
Thermal Designs®, Inc.
1880 S. Flatiron Ct., Suite A
Boulder, CO 80301
(866) 442-3485
(303) 442-3485
All content property of Thermal Designs, Inc.
©2018 Thermal Designs, Inc.
Thermal Designs is a registered trademark of Thermal Designs, Inc.