We've received the following e-mails and letters from our customers all over the country and post them here for your enjoyment.
These appear just as we received them, unedited to show their authenticity. We continue to add these letters as we receive them. Most of these testimonials are from customers who are home owners and installed their shading systems by themselves!…
---
1/5/17 – A message from a recent customer using our website contact form:

For anyone wanting to know if it is worth dealing with this company the answer is absolutely YES. You get what you pay for
and that is an outstanding product with a caring and outstanding company behind it. I can not thank Isabel and Paul 
enough for helping us with our Sunroom. 





Peter&Anne Sheret 
I am SO happy with my sunroom ceiling shades! The fit is perfect — including the specialty shapes — and the fabric color matches my window sheers beautifully! I'm glad I got the extra Thinsulate insulation. From what I can tell, the room temperature is at least 15 degrees cooler than before, and of course the glare is tremendously reduced. This makes the space quite livable in summer. Yea! Thank you for your expertise with Four Seasons and for the personal interest you took in the project. (No one locally knew how to approach the situation.)
Audio Testimonials from Voicemail! Please click the play arrow on the left of each bar…
2/18/17: Voice mail today from one of our new sunroom shade dealers…
1/21/17: This customer is working to install his sunroom shades today…

6/16/16: Every now and then we get a nice voice mail from a very satisfied customer. One was left today…
5/29/2013: Here's a voicemail we received from a recently satisfied customer (We love you too, Noreen!)…
---
5/26/16
Shades arrived lat week. We installed immediately. We love them. May want motor later.
5/23/16
Isabel we received our shades and installed them Saturday. WOW they are beautiful,
and the fit and finish is perfect. Your team did a wonderful job making them, we couldn't
be happier. I can't thank you enough for all your help and suggestions as you made all the
difference in the final outcome. Ordering a product from halfway across the country and hoping
for a happy outcome can be stressful. You were the difference with your product as well as the
room knowledge and pleasant personality. I would recommend your company to anyone, as well as
you, to guide them thru their project. Please thank Steve as well as all those involved with
our project.
Best wishes to all, John Keefe. ps. The birds are also happy
Thank you so much for the beautiful shades. They make a huge difference.
The whole construction of our new barn was a capital campaign. We are a non profit organization.
In the publication of the completion of phase I, we have listed all of the folks and companies that have made our barn so beautiful.
Thermal Designs, Inc. is in there.
"Where Consciousness Meets Wilderness"
12/12/15
A letter from the Sheas, mailed to us last year….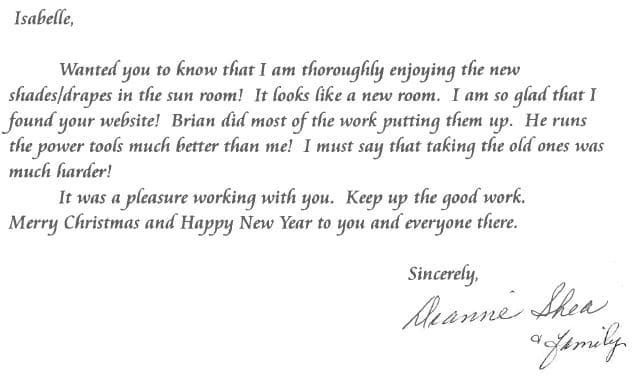 4/15/15
I just want to say how amazing my experience with Thermal Designs has been. The shades are beautiful! Exactly how I imagined they would look and they were easy enough to put up myself. Thank you!!
– Leslie DeLong

8/29/14
Isabel, Steve, Chet (and other support personnel at Thermal Designs)
The shades have now been completely installed and are working well (see picture). Also, they are doing their job (see other two pictures). Tomorrow morning I will adjust all cords and trim excess, set limits, and silicone all tracks (did a little of that already during the installation but tomorrow it will be thorough). The compression of the one channel was corrected with a pry bar and a piece of tool steel that I fit into the channel to obtain the correct leverage and angle.
My compliments on a very efficient design and quality products. Mary and I are will be away for the month of September so we are in a slight panic regarding remaining to-dos before we leave. If I have time I will send a follow up e-mail with any observations and/or lessons learned.
Needless to say I am very glad that I found your company. It has been a pleasure to deal with you. Thanks for putting up with all of my questions.
– Cliff

---
6/23/14
Subject: They are up!
Hi Isabel and Steve,
Dave installed the shades over the weekend and they look wonderful! The heat reduction is amazing.
Thank you so much!
– Chris, Dave and Willie
---
3/17/2014
Hi Isabel..do you remember us coming to your plant from Sask. Canada to pick out our new blinds …well we finally put them up..they look great and they were so easy to install …..the instructions were easy to follow, and they fit perfectly…..thank you so much for all your help…. I love them After waiting almost a year another job off the list ….and they look great ….glad to be rid of the old ones that were totally rotten from hanging in the sun all these years ……Pictures attached ..and you can use them if you wish to show other customers
– Katheleen, Ceylon sask Canada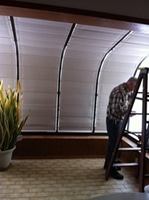 ---
2/24/2014
Isabel…
Thought you would like to know that our drapes arrived as promised and we just completed installing them. They fit very well and we were able to use the existing track with no problem. Thanks for guiding us through this challenging project and if anyone expresses concern regarding how difficult your drapes might be to install just tell them you know of a couple in their seventies who did just fine.
– Bill King
(before and after pics he sent, old shade then our new ones…)
---
10/28/2013 – This was an email exchange regarding a broken shade pulley found during installation…
Wow! That was quick! Thank you so much! No need to apologize. I'll be honest with you, I wouldn't have even known but the installer pointed it out. But thanks again! Excellent customer service!
-Steve
> > Steve: Your replacement pulley is on the way and looks like it will arrive to you Thursday, the 31st. Sorry for the inconvenience! – Isabel > >
---
10/25/2013
Isabel,
Thank you so much. The shades in the hot tub room make about a 30% difference in temperature and look beautiful. My cats love it. We have gotten tons of compliments and have given your company to a couple of people on the Island that have the same situation.
Thank you,
– Suzy
---
10/4/2013
Isabel,
We LOVE the shades!!!!! They look great and really help make the room look amazing. We're still working on making changes to the room as a result and will send pics soon. Feel free to use us as a reference. Happy to write a recommendation. We're so stoked!
Cheers and thanks to everyone at Thermal Designs,
– Cassandra & Jeff – Maverick Surf Shop – Half Moon Bay, California
---
9/28/2013
Hi,
I finally got the courage to hang the shades. They are beautiful. I am not the handiest so there was a learning curve. The advice to use a template was helpful. I used a shim as it was slim and I could clamp it easily. Then as it got chewed I taped a 5/16 " washer over the hole on the shim. Thank you for taking the time to talk me through the entire process from initial measurements to installation. The product is beautiful and fits perfectly.
Thanks,
– Amy Glowacki
---
6/3/2013
Dear Isabel,
They look fantastic….I just love these blinds and the installers thought they were the greatest thing ever! They took picture when they were done!
Thank you for your assistance its been wonderful!
– Carol Georgetson
---
5/16/2013
Attn: Isabel
I want to take this opportunity to thank you for your help & service with the design & installation of our thermal shades for our Brady-Built Sunroom. You were most supportive & helpful with our installation process. Everything is working well. We are most happy with our thermal window shades. Please find 2 photos attached.
Thanks again,
– Richard & Suzanne Wing

---
5/9/2013
Dear Isabel
We just received the replacement shade today for our sunroom. Thank you so very much. It is perfectly beautiful. Thanks for standing behind your products as you advertise that you do. Recently we had so much trouble with a company we used for venetian blinds that we will not be using them again. Not so with yours. It is refreshing to see high quality workmanship and great service from your company.
Thank you again.
– MaryAnn Norelli

---
2/5/2013
Hi Isabel,
I just wanted to send a note along to you and everyone at Thermal Design Inc. to say thank you and to let you know how our first experience with your company went. I have been in the window covering business for over 17 years and have installed literally thousands of blinds and shades.
First of all, let me begin by saying that, Isabel, your customer service is top-notch and far exceeds what passes for customer service at most company's these days. From my first phone call to the last follow-up call you have been helpful, knowledgeable, and accommodating every step of the way.
When the order arrived I wanted to familiarize myself with the product before going to my customer so I unpacked the four well labelled boxes at our shop. Everything was well protected and had descriptive labels. I was also very impressed with the attention to detail of the installation supplies from the rubber gloves, to the silicone spray, to the proper size drill bit, absolutely everything needed to do the installation properly.
Installation day I showed up confident that I was prepared to do the job. The installation instructions are very clear and followed to the 'T' provided a flawless finished product. The customer was delighted with the shades and impressed that we were in and out in under four hours (including moving furniture out and back in). I attribute the quick installation to the organized way the shades were packed, the instructions, as well as the proper supplies.
Thank you very much for making my job so easy and satisfying. I look forward to doing more 'Thermal Design Inc.' jobs in the near future. I have included before and after photos of the job for you to share with your customers.
Sincerely,
– Terry Burak – Superior Blind Services
---
Just wanted to send you a "testimonial". Our invoice number was: 8449.
I don't normally send in testimonials, but in this case I'll make an exception. When my wife started looking, and finally decided on purchasing our shades form Thermal Designs, I must admit I was somewhat skeptical. My skepticism was due to previous purchases of other products from other companies. When we received the shades, my opinion changed significantly. All eight units were received in perfect condition, well labeled and when I opened the cartons, I was immediately impressed with the quality of the material and workmanship. I also had my doubts about the installation instructions, as I have received some that were very poor. All of the instructions were clear, concise and easy to understand. They even included all of the necessary brackets, screws and even the correct size drill bit. The installation went smoothly and quickly. We are delighted with our shades and I would highly recommend Thermal Designs if you are considering Four Seasons retractable shades.
Well done!
– T & D Clark

---
Ms. Isabel
Just a word to say "thank you". The shades are in place. My friend of many years and a master of many skills (Bruce Peterson) spent 5 minutes to read instructions and one and a half hour (at most) to complete the job!
I will try soon to find a way to get a picture of it to you. I commend you and your staff for the great precision in constructing the shades. You are welcome to use my honest opinion of these products in any advertising medium.
Very pleased
– Ray and Janice McConnell

---
06/16/2012
(Nice to get some data on temperature change with our shades installed…)
Isabel,
Attached are photos before and after installation. Notice the differences in indoor temperature readings before and after the installation. Before installation, the temperature was 84.3 degrees F inside and 92.1 degrees F outside. After installation, the temperature was 83.4 degrees F inside and 102.9 degrees F outside. The sunroom is on the west side of our house so it receives the hot afternoon sun.
Installation was simple once I figured out a few tricks in getting the shades started. In fact the last 3 shades took less time to install than the first one did.
Thanks
– Tim Pillsbury, P.E
Here's the photos: Pre-Installation Temp Reading, Shade Installed Temp Reading
---
6/14/2012
—– Original Message —– From: "Russ Adams"
To: "Isabel
Sent: Wednesday, February 01, 2012 11:35 AM
Subject: FW:
I KNOW YOU WOULD LIKE TO HEAR HOW MUCH I ENJOY YOUR PRODUCT AND SERVICE, EVERYTHING IS " A " PLUS, FEEL FREE TO USE ME AS A REFERALL
-RUSS
---
Hello Isabel,
We received our sunroom blinds and my husband hung them over Christmas break, and we both are in love with them. They fit the windows perfectly and we couldn't be happier. Thank you for all your hard work and committment to getting them to us before Christmas. It is much appreciated! We have MANY more windows in need of blinds, and we plan on ordering them all from you in the future. Thanks again for the business and we look forward to working with you again in the future. Have a Happy New Year!
– Jess & Cody
---
Dear Isabel:
Once again, thank you so much for everything. The shades are so beautiful
and they function perfectly. Attached, please find a signed testimonial letter as well as a couple of
pictures for your files.
I wish you and your family happy holidays.
Sincerely,
– Alan Algan
CEO/Executive Director
Automotive Dealership Institute
---
Isabel,
Thank you very much, the blinds arrived Wednesday and they look absolutely awesome!!! We should have purchased these long ago, the temperature in the sunroom has dropped tremendously and the air conditioner doesn't run as often. It is such a wonderful room to sit and relax to watch tv in now.
Thank you again,
– Kevin and Kathie Willey
---
(This recent email contained an attached letter which we converted to .pdf for you – click the link below to read…)
Isabel,
Thanks again. You were right, the new shades were the ones we like the best. Everything is up and running and all I need to do now is get the electrician out to make the finishing touches.
– Steve and Carole, Fair Oaks, TX
---
(This customer installed our wand operated shades in a sunroom with a low pitch ceiling)
Isabel,
Thanks so much for all the prompt help with our recent order for our Four Seasons Sunroom. The installation instructions were clear and easy to follow. We are very pleased with the blinds from start to finish. The new blinds will add about 4 months enjoyment to the room, helping keep out the winter cold and the blazing summer heat. The double springs on the leading rod solved the concern with the shades moving down when we wanted them in a certain spot. It is a pleasure doing business with companies that under promise and over deliver. That was certainly the case with our order. photos enclosed.
Thanks again,
– Dean & Veleta, Amarillo TX

---
( A hand written letter (far out!) with photo received in the mail, so we scanned them…)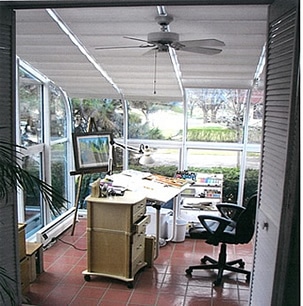 .
---
Isabel,
We put the shades up yesterday. We absolutely love the fabric and they look fantastic! We can't wait until the hot summer months when we will finally have some relief from the sun!
Thanks again,
– Morgan and Michael Cassella

---
Dear Isabel,
I wish to thank you for the very efficient way my order was handled and for the crew that prepared it for shipment. Everything worked out to perfection. The dimensions and fit couldn't have been better. They are all up now and look and function perfectly. I also appreciate your congeniality. To me your company seems highly ethical and holding to high quality standards.
Thank you very much.
– Leon Girdner
---
(An email from one of our sunroom dealers…)
Isabel,
Thank you for the very complete and nicely made shade for the Kohler Resort . You provided everything I needed for the installation including gloves which helped to keep the fabric from getting soiled. The silicone spray made the shade easy to operate which saved the day for me . The attractive wand was simple and the perfect tool for operating the shade.
– Fred L. Holtzman, AIA, PE – Wisconsin Solar Design

---
Isabel,
Mailed your check Thursday for the Brown order. Customer loved the shades and commented on what high quality they were. Many thanks.
– Phil Pfister, Pres. – Architectural Glass/Four Seasons Sunrooms

---
(This customer had to do a quick repair after installing their shades…)
Isabelle,
Just writing to let you know we got the grommet kit and it worked wonderfully. It was a simple fix that even I could handle. Everything is great with the curtains and are very pleased with them. Thanks for all your help and we would definitely order from you again and will be recommending your company to others. Your company's personal attention to the order was critical in the success of the project…
Thanks again
– Mike & Tracy Sharp

---
Isabel,
Finished the shades and everything was perfect. Right size, and well made;we liked the blue. The complete installation kit of drill bit, gloves, cleaning brush and instructions,spare parts etc. was an unexpected bonus and a big help. Again, thanks for a great job.

---
Hey Isabel,
Kim Knowles
Just a too brief note of exceeded expectation in WV! Excellent work. The kitchen blinds are next! I'll be in touch..
Thanks to all your wonderful and talented people..
– Steve Wilson

---
The shades are perfect! The color and weight of the shade are exactly how you explained, they look great with the wood trim. I was also impressed with the detailed instructions on installing them and all the supplies that came with them to install. We were able to install them in just over 4 hours.
I would recommend Thermal Designs to all. You were fast and courteous and knew your stuff.
Thanks again!
– Kathy Lankford

---
Hi Isabel: I just wanted to tell you how much I love the shades and send you some pictures of them . My husband just got finished putting them up and it was easy to do. I think it will be great when the Texas sun shines down on the room.
Thank You
– Collene Whipple

---
Hi,
Just wanted to let you know we've had our shades about a month now and we love them. My husband was delighted at how easy they were to install.
Thank you,
– Linda and John Lloyd

---
Dear Isabel,
The shades are in and I really love them! This makes my sunroom totally usable all summer long, despite the 90+ degree days we've been having.
The larger swatches of material you sent me and your feedback over the phone really helped. The fabric is perfect!
They are extremely easy to open and close, so I don't hesitate to modify the lighting depending on the time of day and temperature. I've attached some pictures to show you how pretty they are, including one to show what they look like fully opened. Please feel free to use these photos if you want to demonstrate to someone what the finished product looks like.
Thanks so much for your help and for this terrific product!
All the best,
– Margaret

---
Hi Isabel,
We are finally finished with our patio. We want to thank you again for your quality product. The shades allow us to be in control of the patio. We've got sun (and heat) when we want, and cool shade when it's too hot. The shades went up slick. Everything was in the shipment that we needed–well, thought out. All the shades were uniform and very well made.
Our project being a unique diy type of installation, I was impressed with your idea of sending one test shades first. It fit perfectly, and so did the other 17.
The thing that impressed me most was NO surprises. You know your product very well, and we able to communicate very well. That means alot when you are doing the project all by yourself.
We would highly recommend your product to anyone.
Sincerely,
– Peter and Sherry Brown

---
Hello Isabel,
Just wanted to drop you a quick email to let you know that the SunShades are up! We think they look totally lovely and gorgeous – and do a great job of reflecting the sun and providing shade and cooler temperatures. Also, appreciate getting these in the timeframe promised.
Thank you,
– Lorraine Evans – Florida Running & Triathlon

---
Hello to Ms. Isabel and Mr. Chet in Colorado from Ohio. Don and I just want to tell you how pleased we are with our new shades. They are beautiful. We had old stained and dirty shades in the sunroom when we moved into our house 7 years age. We waited until we could afford new. There is only one company in the Cincinnati area who offers 4 seasons sunroom shades, and their cost was over $11,400 for only the ceiling shades. They install the shades, and we were required to buy two motors. We couldn't afford their price, so I investigated online and found your company. Don called and talked to Isabel and said she knew more about the shades than anyone he had talked to, and he felt confident ordering from your company. Don had no trouble installing the shades and having them motorized is so much easier than cranking to raise and lower them.
We would like to order the small coverings for above the side windows. We thought the roller on the sideshades would be smaller, so Don had to install them lower than we expected, and there is too much sun coming in at the top of the shades. We would like them to be the SW Birch color also. I included pictures of all the new shades for you.
So, to close, thank you very much for you product and your professional service. We would highly recommend you to anyone needing sunroom shades.
– Lynda and Don Ernst

---
Well here is my sun room in Guilford, VT and the beautiful shades I purchased from you that were so easy to install. I must admit that I was overly nervous about the installation process, but was pleasantly surprised to find that I had all six shades installed in about 1.5 hours. I absolutely love how they look and the shade that they provide for me as well as for protecting the furniture in the room. I could not be happier with them. I am so glad that I found you on the internet. Anyone with a sun room should consider these beautiful as an addition to it. I think they will be as happy as I am with my new shades.
Thanks again.
– Jim Marceno.

---
Isabel,
This email is a long time overdue….
We installed our shades, both Jeff and I….without killing each other (can you believe that?). We did them a couple of weeks after receiving them. It took the two of us two days total, mostly because I was working with a bad knee at the time, and couldn't work for very many hours in a row…kept having to take breaks to rest it. They were really easy to put up and you and Chet were just great as far as helping us out and just answering any questions that we had. Thank you also for recommending the "motorized" shades…they were well worth the few extra bucks!
It's refreshing to deal with a company that has real people answering their phones and that takes the time with their customers, no matter how trivial or large their problem is. We just had new carpeting put throughout our whole house, so the parrots and I have been banned into the sunroom because the odor from the padding and carpet is deadly to the birds respiratory system. We're actually living in the sunroom until the carpet is pretty well aired out and there are no fumes. It may be a week or two.
Needless to say, a room that we NEVER used, because it was tooooo hot, is now like having an actual extra room that can be used like any other room….it's wonderful !!! I've put extra furniture in there, a huge TV and for now…my aerobed and the bird cages.
I can't say how happy I am that I happened to be browsing the internet and googled "sunroom shades" and found your website. We are so pleased with the quality of the shades, the service from your company and would absolutely tell ANYONE that has a room they can't use because of the sun, to call you immediately and they'll be taken care of.
Anyway, I've been thinking of you and really wanting to sit down and let you know how much you've improved some part of our lives….God, how I hated that room before !! I kept saying, "well….that room was a BIG waste of our money!" Now I say…"Thank you Isabel ! I Love my new room !!!
I'm sure that at some time in the future, I'll be calling you for shades for the sides of the room, although we really don't need them for the sun, but more for privacy.
Thank you again !!
Always,
– Cindy and Jeff Jones – Home Owners

---
Subject: Four Seasons Shades – Perfection!!!!
Received the 5 parcels last Thurs. installed last Friday, and have been enjoying the shade since.
The fit was perfect, the installation simple and the results terrific.
The difference is amazing. Just in time for our July 1, Canada Day long weekend.
Many, many thanks for a job well done!
Again great job on these shades.
Thanks
– Garry

---
Dear Isabel,
Enclose are the pictures we promised to send. We are so very happy with our shades. When Scott & I decided to put shades in the sunroom, we were frustrated with no one in our area to help us. By chance I found Thermal Designs on the internet. We were so excited. After a few phone calls to work out the details, we had our order placed and within weeks we received our new shades. I must say we use our sunroom more than ever. Thanks again for your expertise & professionalism.
Sincerely,
– Barb & Scott Jennette – Home Owners

---
Isabel: Shades were received on Monday and on Tuesday I went to work putting them up. Instructions were very good for the overhead curtains. Everything fit very nicely. For the verticle ones the distance of 71 1/2 inches was about 3/8 of an inch to short for the screws that were in place already. So a bit of redrillling the bracket holes and they also fit very nicely. Thanks for your help. We love them.
– Charley Fitch – Home Owner

---
Just a note to tell you how happy I am with my new shades. We are having a very hot summer here in Indiana and they are keeping the heat out just like you promised. Thanks to Isabel for all her help.
– LaVon Perry – Home Owner

---
Dear Isabel,
In regards to the used "Sunshine Rooms" solarium that I had obtained, we would like to thank you for your help in designing and putting together a great set of shades for our sunroom. As you are well aware of, this was something new to us, doing it ourselves. We were quite surprised the way you bent over backwards to see that everything would work out for us. Especially with the fact that we were using regular wood siding for the end walls instead of glass panels. Thanks again for a job well done by you and the crew there. The material and the workmanship were both great!!!!!
Our room is now complete, THANKS TO YOU!!!
– Lee & Cindy B. – Home Owners

---
Hi Isabel,
We are thrilled with our new sunroom window shades and couldn't be more pleased with the quality of your product! You provided us with professional advise and samples of shade material to make the right decision for our sunroom. We can attest to your prompt follow-up on our sunshades and outstanding service. The shades were delivered as promised in time and quality. The assembly directions and material were extremely well thought out. Dealing with your company was so easy and pleasant that we can recommend your company highly!
Best Regards,
– Horst Stahl – Home Owner

---
THANK YOU, We can finally use our sunroom in the summertime! I made a template to drill the holes and the installion was easy. It took about four hours to install the six sections. After the second one was installed the room started to cool down. The temperature was 87 degrees and the sun was bright. We have central air and three vents in the sunroom, but it never was cool enough to use until long after the sun went down. I sat in the room from 2:00 PM until 11:PM. Your idea for a lighter color was great as they look darker installed and closed. They add to the beauty of the room and I finally can use the room. Again ,Thank You, If you need any one to verify that your shades work, My wife and I will be a testament.
– Rich Kozek

---
Dear Isabel: Just a line to thank you and the folks at T.D. for the quality shades we purchased from you. The installation was easy thanks to the custom instructions. The quality of the workmanship is excellent as is the fabric. Again thank you.
– Tony and MaryAnn Norelli – Home Owners

---
As local companies gave suggestions and estimates, my wife and I found nothing but confusion, conflicting information and expense in our search for solutions to our sunroom's melt-down effect. Then we found Thermal Designs on the internet; our problem was solved. Interaction with the company representatives cultivated confidence and clarity. Our lack of "handi-ness" was compensated for by their patience, incredible responsiveness, experience and consumate good-natured approach. Clearly, their primary concern was our satisfaction and every detail was carefully seen to. I would recommend Thermal Designs to anyone who wants an attractive and effective solution to their sunroom or solarium issue.
– John Michel and Jane Finkle – Home Owners

---
Hi Isabel, As I told you on the phone the other day, we are thrilled with our new shades. I have a pet peeve regarding "some assembly required" instructions and your directions proved to be the most complete and easy to follow as any I have ever encountered. Bravo! Here are a couple of photos of the sun room. Thanks again,
– Bob Cortright – Home Owner

---
Thank you Thermal Designs Inc. for the sun shades that I recieved from you company…
I would like you to know that I couldn't be more pleased with the quality of the shades and I send kudos for the timely delivery as promised…
Kindest regards,
– Charles Gallay – Home Owner

---
Great job to all. Thanks.
– Elmer Kovacs – Home Owner

---
Dear Isabel, Thank you so much for your prompt follow-up on our sunshades. They look great after being installed. We appreciate very much your extraordinary care of your customers. You have made us very happy with such an outstanding service. We feel so fortunate to have a person like you who listens and looks after customers' needs. Hope you've had a wonderful holidays and whish you a happy, healthful, peaceful and prosperous new year.
With warmest regards,
Your very satisfied customer, Angie
– Angie Surh – Home Owner

---
The Four Season Shades arrived. The engineering, workmanship and quality appear to be superb. And the directions were extremely well thought out, making them fun for Sharon and me to put up. Except for having to wash the windows first!
Thanks.
– Powell Foster – Home Owner

---
The sunroom blinds arrived on 3 October and I installed them on the 4th of October. We are very happy with the product and they fit like a glove. It couldn't be any better.
I would like to personally thank both of you for the excellent information you provided as well as the support that made this happen. It's great to be able to work with people that has the buyers interest at heart. Thanks for everything and it was a pleasure to work with you all.
– Robert Barnett – Home Owner

---
We received the shades Monday afternoon, and my husband and I installed them Tuesday with no problems. They look great. My husband was very favorably impressed with the quality of the shades and the thought and organization involved in packaging them. Everything was labeled clearly and logically, and the instructions were quite clear.
So, we're very pleased with the shades, and we thank you the time you spent with us in getting the project underway and accomplished.
– Helen Lovett – Home Owner

---
We love our shades! They Make all the difference in the world in our sunroom!
Sincerely,
– Ali McDaniel – Home Owner

---
We received and installed the shades for our sunroom today. The shades look great and fit the windows perfectly. Thanks for your help and we will recommend Thermal Designs Inc. to anyone that asks where we purchased our sunroom shades.
Thanks again,
– David Hubbard – Home Owner

---
Paul and I want to express our appreciation for the fine product that Thermal Designs manufactures. Our thermal shades not only fit well and look very good but also indeed they do provide significant insulation in hot weather and, presently, in freezing weather. We are very pleased and happily surprised by their role in making our now-favorite sun room comfortable regardless of nature's moods outdoors.
When I (Carol) first contemplated having custom shades made by a company clear across the country based on measurements that we provided, I thought that it would not work. But I hadn't "met" you yet. I am stilled awed by your communications abilities! You got us to measure correctly and accurately. You were very patient in explaining wands and ganging pulls ad nauseam while I tried to wrap my mind around these ideas.
We want to make certain you know that we appreciate your company's adjusting the shade to accommodate the fan at no cost to us. It is that sort of very rare customer support that helped us manage reconstruction after our tornado without major financial and emotional trauma.
If ever we find that we need your services again, we will turn to Thermal Designs without a second thought. The beauty of your being able to conduct business long distance is that no matter where in the country we live-you are easily available!
Meantime, we plan to mention your company's name to any of our friends, family, and colleagues who might benefit from your products and services. I know we do have people thinking about building sun rooms after seeing ours!
With deep appreciation and our wishes that you and your company prospers in the years to come, we thank you.
Sincerely,
– Carol and Paul Manka – Home Owners

---
The Shades are so useful. We would miss them now in our summer season.
Thank you,
– Hanna Porter – Home Owner

---
I am very satisfied with your Thermal Designs Shades for my Solarium! I enjoyed installing the shades and now my family and I can enjoy the sunroom "open" or "closed". Thank you for an excellent product and outstanding workmanship.
Sincerely
– Raymond Henderson – Home Owner

---
We completed the solarium curtain installation a week ago and all is working very well !!
Thank you and Chet for you assistance.
I am very happy.
– Rene Godin – Home Owner

---
I want to thank you immensely for all your help in processing this order and to tell you how thrilled we are with our shades.
We quickly installed most of them so as to familiarize ourselves with the process and make sure the order was completed properly. The Holidays then descended upon us and we are in the midst of a major remodeling so the shades have been temporarily taken down and will be put back up as soon as possible. The warm spring sun coming in the room has already made me miss them!
Thanks for all your patience while we made decisions regarding these shades. If you remember, we were dealing with hail damage to our exterior shade and you were so helpful throughout the whole process as we waited for payment from the insurance company. You made the interior shades (what I REALLY wanted) a real obtainable product for us. I thought the price difference would make it impossible to afford them.
Thanks for the service. Your product is everything I'd hoped it would be – quality material, easy installation, simple operation….) look forward to our first summer in the sunroom with these new shades!
thanks.
– Mary Schmittgens – Home Owner

---
Some time ago I contacted you in regards to purchasing shades for my Four Seasons Sunroom. You recommended I try Thermal Designs in Boulder Colorado. Great Call.
I wanted you to know that I did contact them, and after initial discussions, I was confident that the product would fit my needs. Now a few weeks later, I was compelled to write and tell you what a great recommendation this was. I installed the shades myself and believe me I was apprehensive about taking on the task. When I originally spoke with Isabel from Thermal Designs, she assured me that I could do it myself. Turns out she was right. These people know how to guide you through the project, they care about your satisfaction and the end result looks sensational. Both Isabel and Chet at Thermal Designs took a genuine interest in making sure the project went well. I would recommend them to anyone.
Here's the bonus: Something I did not anticipate. Not only did we get protection from the hot afternoon sun coming into our kitchen, but we gained additional living space. The Four Seasons dining room is now a place we can enjoy to do other things during the day. My wife does some craft work and now uses the room in the afternoon. That's a first.
Thanks Maude for the tip on this company. We just added another room to our house for a very low cost.
Sincerely,
– Bob McCord – Home Owner

---
Just wanted to let you know that our new shades are installed and they are wonderful! Think they'll be a giant step in making our sunroom more usable. Thanks so much, it was a pleasure doing business with you and your company!
– Debbie Brown – Home Owner

---
Just a short note to express our appreciation for getting the shades to us in record time. They fit perfectly and allowed us to finish the job completely and get paid in full.
It is rare to find such service these days, although we offer the same type of service to our clients. Many thanks for a great product and your attention to our needs. We will look forward to doing business with you in the future.
Sincerely,
– Phil Pfister, Pres. – Architectural Glass – Greer, South Carolina

---
Hi, just wanted to let you know that I received my shades and installed same. They came out perfect. Just wanted to thank you for an excellent job.
– Evan Okowsky – Home Owner

---
Here are some pictures of our new shades. You can see how they are keeping out the hot sun. It's now pleasant for us in the late afternoon when we get the hot western rays.
Thanks for your help!
– Andrew and Frances Soltis – Home Owner
Thermal Designs®, Inc.
1880 S. Flatiron Ct., Suite A
Boulder, CO 80301
(866) 442-3485
(303) 442-3485
All content property of Thermal Designs, Inc.
©2018 Thermal Designs, Inc.
Thermal Designs is a registered trademark of Thermal Designs, Inc.