(866) 442-3485
New Four Season Sunroom Shades by Thermal Designs Will Renew the Beauty and Comfort in Your Four Seasons Sunroom or Solarium.
See our Photo Gallery … Read Our Customer Testimonials
Our Four Seasons shades and blinds are designed to fit all models of Four Seasons sunrooms and solariums. We are the recommended shade manufacturer by Four Seasons Sunrooms of Holbrook, New York for their line of sunrooms, solariums, patio rooms and greenhouses. Thermal Designs is the leading manufacturer of Four Seasons Sunroom and Solarium shades, serving thousands of home owners, businesses, sunroom dealers and sunroom window treatment specialists all over the world since 1980.

We know Four Seasons Sunrooms and Solariums inside and out. Creating custom, high quality, beautiful Four Seasons Shades just for You is Our Specialty!
Call today for information on pricing, fabric selections or simply to discuss your shading, insulating and privacy options. Our toll-free number is (866) 442-3485 and you can email us.
We ship anywhere in the United States, Canada and all over the world.
Four Seasons Greenhouse Shades
Our shades for Four Seasons sunrooms

a

re either manual systems (operated by pull cords or with a hand held wand) or are motorized…
Shades with pull cords use a system of hidden cords and pulleys. They are perfect for sunrooms with a steep pitch. Shades can be pulled individually or together at the same time.
Wand Shades, ideal for rooms with a low pitch, are operated individually, by hand, using a handle on the bottom of each shade. When a shade is raised high enough, a wand is used against the handle or bottom edge of shade.
Spring Tension Wand Shades for rooms with moderate to steep pitch are an alternative to having pull cords and are held in place by the tension from spring rods located in the bottom of each shade.
Motorized Four Seasons sunroom shades are an attractive, fun, high-tech system offering great ease of operation. They are run from either a wall switch or radio frequency remote control (either hand held or wall mounted). Motorized shades can also be controlled from other remote devices, such as smart phone apps, when integrated with a modern home automation system (not provided by Thermal Designs).

An Easy Shade System to Install
Our Four Seasons solarium and greenhouse shades operate in the Four Seasons sunroom built in track system. Pre-assembled headers and hardware for manual or motorized operation come with every system. Detailed installation instructions are included.
The Simple, Reliable Design Provides Smooth, Quiet Operation. The smooth operating, gravity-fed system makes every day operation of our Four Seasons shades simple. Aluminum tubing, hidden inside the shade pleats spaced at 10-inch intervals, has glider wheels that fit into the Four Seasons shade track, allowing the shades to precisely follow the contour of the solarium for a beautiful, fitted look.
Our Four Seasons Sunroom Shades utilize the built in shade track channels of the Four Seasons glazing beams. These tracks are either internal or external, shown in the beam profile images below, with our shade glider positioned in the tracks:
Matching Shades for the Gable End windows and doors are also available. Each window or door of the gable end can have its own shade that conforms to the roof line in curved or straight eave areas.

Our Four Seasons solarium shades are available in a variety of durable, moisture-proof fabrics, textures, weaves and attractive fade-resistant designer colors. The choice of fabrics also gives you the ability to control the amount of privacy, degree of transparency, heat reflection and heat retention.
The table below gives an example of the fabrics we offer, their application and the amount of light block they provide…
Call us and we'll send you swatch samples to help you with your fabric selection!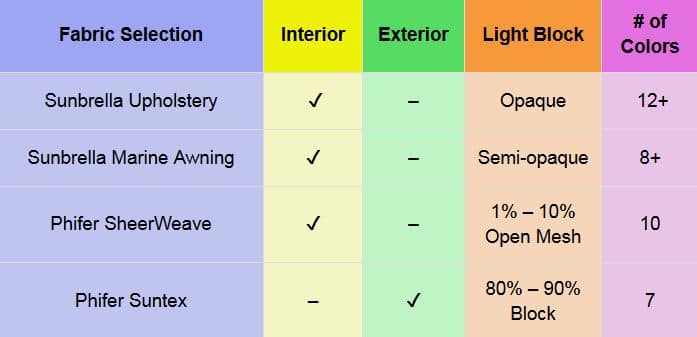 Four Seasons Sunroom Shades and Blinds & Four Seasons Solarium Shades and Blinds are Hand Made in Boulder, Colorado, USA.
Thermal Designs®, Inc.
1880 S. Flatiron Ct., Suite A
Boulder, CO 80301
(866) 442-3485
(303) 442-3485
All content property of Thermal Designs, Inc.
© 2006 – 2017, Thermal Designs, Inc.
Thermal Designs is a registered trademark of Thermal Designs, Inc.