Thermal Designs is the leading manufacturer of sunroom shades and blinds
serving thousands of home owners, businesses and window treatment specialists since 1980.
Our Sunroom Shades are made of the highest quality fabrics and are custom made to fit your brand of sunroom or solarium.
Read our customer testimonials
Call today for information on pricing, fabric selections or simply to discuss your shading, insulating and privacy options. Our toll-free number is (866) 442-3485 and you can email us with this link. We ship anywhere in the United States, Canada and all over the world.
Operation of Our Sunroom and Solarium Blinds

Our shades are either manual systems (operated by pull cords or with a hand held wand) or are motorized:
Shades with pull cords use a system of hidden cords and pulleys. They are perfect for sunrooms with a steep pitch. These sunroom shades can be pulled individually or together at the same time…
Wand Shades, are designed for sunrooms and solariums with a low pitch. These are operated individually, by hand, using a handle on the bottom of each shade. When a shade is raised high enough, a wand is used against the handle or bottom edge of shade.
Spring Tension Wand Shades for rooms with a moderate to steep pitch are an alternative to having pull cords and are held in place by the tension from spring rods located in the bottom of each shade…
Motorized

Sunroom and Solarium Shades



Motorized sunroom shades are an attractive, fun, high-tech system offering great ease of operation. Shade motors are operated using a wall switch or radio frequency remote control (either hand held or wall mounted). They can also be controlled from other remote devices, such as smart phone apps, when integrated with a modern home automation system (not provided by Thermal Designs).
Shade Carrier Systems… Our sunroom and solarium shades are carried by gliders incorporated into each shade pleat. They glide up and down in preexisting shade tracks found in the beams of most solarium and sunroom models. When this track is absent, we fabricate decorative, add-on track specifically for your installation. For curved solariums, we bend the track to fit the beam profile.

Maximize Energy Efficiency and Temperature Control
Insulated Sunroom Shades are made with Thinsulate™. This insulation layer inside each shade will keep your room warmer in winter and cooler in summer, reducing your heating and cooling costs…

Shades for the Solarium Gable End Windows and Doors are also available. Each panel of the gable end can have its own shade that conforms to the roof line in curved or straight eave areas.
Solar Shades are screen roller shades for vertical sunroom windows, require no track and are operated by bead chain pulls or motorization.

Fabric Selection

Sunbrella® Upholstery fabrics are warm, soft, durable and moisture resistant. We offer this material in 12 basic styles and colors. Shades made with this material have Energy Shield backing and can also be insulated with Thinsulate.
You can view the available Sunbrella Upholstery fabrics online with this link. Note: We only provide fabrics from these pages beginning with "Canvas" or "Linen", and you can do a page search for these terms. (Additional charge may apply for fabrics not in our base style and color selection as costs vary among these fabrics.)

Sunbrella Marine Awning fabrics are an excellent sun blocker and are translucent, having a beautiful glow under the sun. Shades using this outdoor material are highly durable and water proof. We offer awning fabric in 8 basic colors. These shades are single layer and can be made with Energy Shield backing.

See the available Sunbrella Marine Awning fabrics online using this link. (Ask about our 8 basic colors. Additional charge may apply for fabrics not in our base selection as costs vary among all those available)

SheerWeave® Screen fabrics by Phifer are ideal for allowing visibility to the outdoors and reduction of the sun's rays at the same time. Our solar screen shades and blinds can also provide a great environment for greenhouse gardening with sensitive plants. We offer SheerWeave in 10 basic colors and weaves.

View the SheerWeave screen fabrics at Phifer with this link. Note: We only provide screens listed on the pages for SheerWeave styles 2360, 2390, 2410 and 2500.
Suntex Screen fabrics are made for the outdoors and are for our Exterior Solarium shades. We offer it in 7 basic colors and weaves.
We'll send you swatch samples of our basic fabric styles and colors: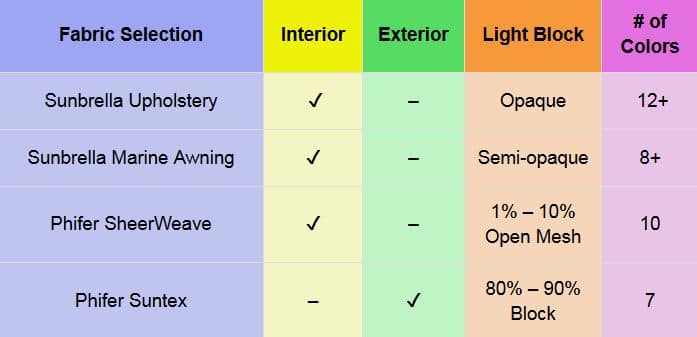 Absolutely The Best Shades for Sunrooms and Solariums!
Preserve your valuable finishes and furnishings. The direct sun seriously deteriorates your furnishings, carpeting, woodwork, art and just about everything else you have in your sunroom or solarium. Our shading systems give you great protection from the sun's power of fading and erosion and allows you full control over how much sunshine you let in.
Easy Installation – Our sunroom, solarium and greenhouse shades and blinds come with everything you need, clearly labeled to match our detailed instructions. Most of our customers have installed our shades themselves and some have shared their ease of installation experience with us in their testimonials.
Thank you for considering our shading system products!

Here are two before and after photos…
Thermal Designs Sunroom Shades and Solarium Shades are hand made to your order and are
Made in the USA
We're a family owned and operated company, manufacturing your solarium shades and blinds locally and exclusively at our shop in Boulder, Colorado, USA
Thermal Designs®, Inc.
1880 S. Flatiron Court, Suite A
Boulder, CO 80301
(866) 442-3485
(303) 442-3485
All content property of Thermal Designs, Inc.
©2018 Thermal Designs, Inc.
Thermal Designs is a registered trademark of Thermal Designs, Inc.